Crunchy Asparagus Salad with Mozzarella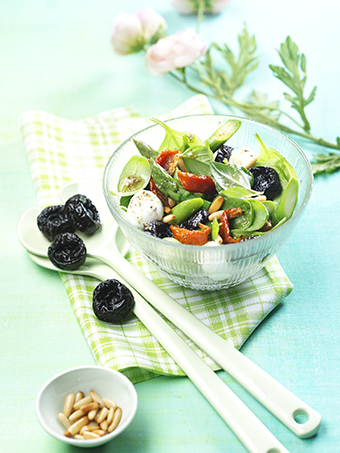 Ingredients
500 g green asparagus
60 g sundried tomatoes (without oil)
30 g pine nuts
1 bunch of basil
300 g baby spinach
150 g SUNSWEET prunes
4 tbsp. lemon juice
8 tbsp. olive oil
1 tbsp. vinegar
Salt & pepper
Fennel seeds, toasted and chopped
300 g mini buffalo mozzarella
Pine nuts for garnishing
Instructions
Peel lower third of asparagus and remove ends. Then cut diagonally into 4 cm long pieces. Cube dried tomatoes. Coarsely chop pine nuts. Cut basil into strips and slice prunes. Clean and wash spinach.
Blanch asparagus for about 4 minutes in salted water. Stir lemon juice and oil with vinegar, salt, pepper and fennel until smooth. Add asparagus, dried tomatoes and prunes and allow to soak through.
Cut mozzarella into halves. Add spinach and basil to the asparagus and serve with mozzarella. Sprinkle with pine nuts.
Recipe Categories
Easter, LP Bone Health, Mains, Sides and Salads,
Recipe Tags
["Vegetarian/Meatless"]
21, 27, 11, 10,
Other Recipes you might like...