Goat Cheese Crostini with Prune Sauce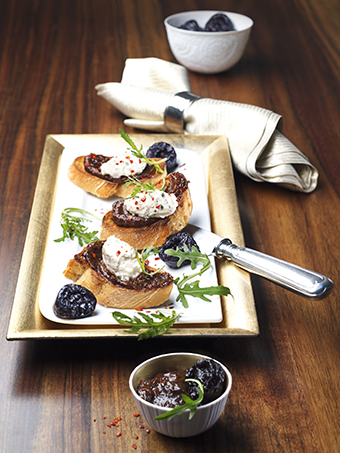 Ingredients
1 onion
100 g SUNSWEET prunes
6 tbsp. olive oil
200 ml red grape juice
Pinch of cinnamon
1 clove of garlic
12 baguette slices
1 bunch of rocket
150 g fresh goats cheese
1 tsp. harissa (Tunisian hot chili pepper paste)
Salt & pepper
Instructions
Peel and finely dice onion. Cube prunes. Heat 2 tablespoons of oil in a pot. Add onion and prunes and sauté until onion is translucent. Deglaze with grape juice, reduce for about 5-8 minutes. Finely blend in a blender. Season with salt and cinnamon.
Heat the remaining oil with garlic in a frying pan. Roast the baguette slices from one side until golden brown. Finely chop rocket and mix with goat cheese and harissa. Season with salt and pepper. Spread goat cheese on the baguette slices. Drizzle with prune sauce and garnish with rocket.
Recipe Categories
Canapes and Savoury Snacks, Christmas, LP Bone Health, LP Prep Under 15 mins, Starters and Appetizers,
Recipe Tags
["Under 500 calories","Prep under 15 Mins"]
12, 15, 27, 25, 5,
Other Recipes you might like...