Delicate Minestrone with Prunes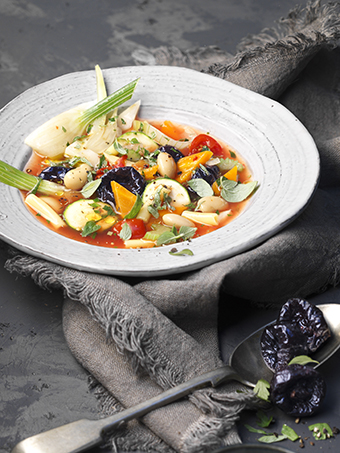 Ingredients
300 g celery
200 g carrots
100 g fennel
1 zucchini
2 onions
2 tbsp. olive oil
1 can of peeled tomatoes (800 g)
500 ml vegetable stock
100 g SUNSWEET prunes
1 can of white beans (approx. 250 g)
80 g short macaroni
½ bunch of marjoram
3 sprigs of thyme
1 sprig of rosemary
Olive oil
Salt & pepper
Instructions
Wash vegetables and chop. Heat 3 tablespoons olive oil in a saucepan; add celery, carrots, fennel, zucchini and onion. Sauté for 3 minutes. Chop canned tomatoes. Add tomatoes and stock to the vegetables. Bring to a boil and simmer for about 15-20 minutes over medium heat
Cut prunes into small pieces. Drain beans in a colander, add to soup and heat. Cook macaroni in salted water for about 10 minutes, drain and add together with prunes to the minestrone. Season with salt and pepper. Just before serving, chop herbs finely and spread with a drizzle of olive oil over the minestrone.
Recipe Categories
Soup, Starters and Appetizers,
Recipe Tags
Under 500 calories, Vegan,
Other Recipes you might like...