Crispy Tofu Tandoori with Prune Sauce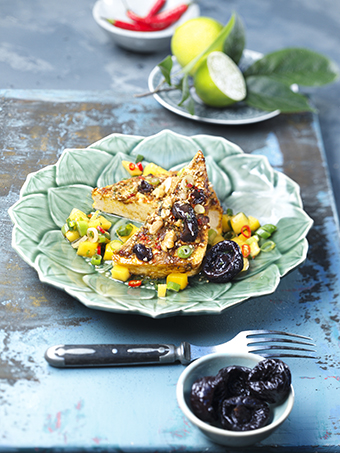 Ingredients
500 g tofu
1 bunch of coriander
30 g fresh ginger
100 g SUNSWEET prunes
100 g walnuts
150 ml coconut milk
30 g sesame seeds, roasted
2 tbsp. garam masala
1 tsp. turmeric
1 tsp. chilli powder
1 tsp. cardamom, ground
Salt
1 mango
2 spring onions
2 red chilli peppers
4 tbsp. lime juice
6 tbsp. oil
Instructions
Cut tofu into 2 cm thick slices. For the marinade, pick coriander leaves off the stems and chop finely. Peel ginger, grate finely, and then chop prunes and walnuts. Stir coconut milk together with walnuts, prunes, sesame seeds, and coriander to a paste. Add spices and mix well.
For the salad, peel mango and cut into small cubes. Cut spring onions into rings and finely chop chilli. Stir together lime juice, sugar and oil until smooth. Add mango cubes and spring onions.
Arrange tofu slices on a baking tray lined with baking paper. Brush with marinade and bake in a preheated oven at 200° C (convection oven 180° C) for about 20 minutes.
Arrange baked tofu along with salad and serve.
Recipe Categories
LP Bone Health, Mains, Starters and Appetizers,
Recipe Tags
["Under 500 calories","Vegan"]
27, 11, 5,
Other Recipes you might like...