Healthy Anzac biscuits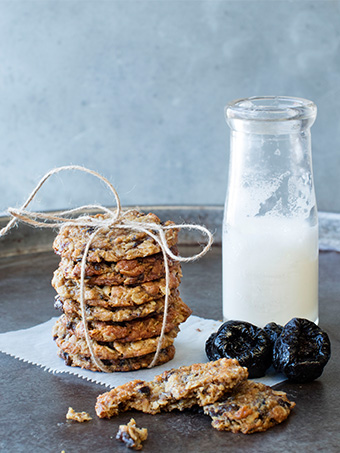 Ingredients
100g plain flour
100g light muscovado sugar
75g porridge oats
75g desiccated coconut
100g SUNSWEET pitted prunes, finely chopped
100g butter or cold pressed coconut oil or macadamia oil
1 tbsp golden syrup or honey
½ tsp vanilla extract
1 tsp bicarbonate of soda
2 tbsp warm water
Instructions
Preheat the oven to 180C, (350F), Gas mark 4. Line two large baking sheets with parchment paper.
Place the flour in a large bowl with the sugar, oats, coconut and prunes.
Put the butter or coconut oil or macadamia oil in a small pan with the golden syrup or honey and vanilla extract and warm through over a gentle heat, stir-ring to combine.
Mix the bicarbonate of soda with the warm water in a small bowl to dissolve. Stir it into the butter or oil mixture and mix well until it foams up a little in the pan. Remove from the heat and mix into the dry ingredients. Mix well to combine.
Spoon tablespoons of the biscuit dough onto the lined baking sheets, about 2.5cm apart to allow room for spreading. Bake for 6-8 minutes, until crisp and golden. Leave on the baking sheets for 5 minutes, then transfer to a wire rack and allow to cool completely. Store in an airtight tin for up to one week and use as required.
Recipe Categories
Desserts and Sweet Treats, LP Fat Replacement,
Recipe Tags
9, 29,
Other Recipes you might like...