Oatmeal & prune muffins with blueberries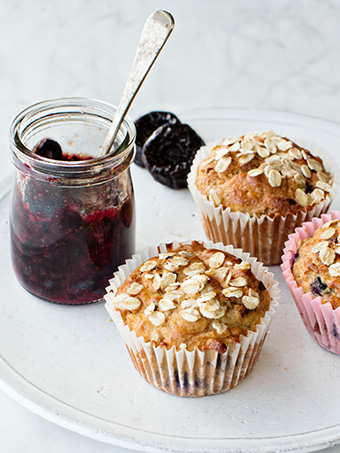 Ingredients
60g butter
250g self-raising flour
1 tsp bicarbonate of soda
75g light muscovado sugar
100g SUNSWEET pitted prunes, finely chopped
1 large egg
200g Greek-strained yoghurt
100ml buttermilk (or use milk soured with the juice of half a lemon)
75g blueberries
25g porridge oats
Instructions
Preheat the oven to 180C, (350F), Gas Mark 4 and line a muffin tin with 12 paper muffin cases. Melt the butter in a small pan or in the microwave, then leave to cool.
Put the flour, bicarbonate of soda, sugar and prunes into a large bowl and stir to combine. Add the melted butter with the egg, yoghurt and buttermilk or soured milk and mix until it all just comes together, using as few stirs as possible as this will produce much lighter, fluffier muffins. Fold in the blueberries until just combined.
Using a large spoon or ice cream scoop, divide the mixture between the paper cases, using a spatula to ensure you get every last bit out of the bowl. Sprinkle the oats on top and bake for 20 minutes or until the muffins are cooked through. To test to see if they are cooked, put a skewer into the centre of a muffin and it should come out clean. Once baked, remove from the oven and leave to cool a little in the tin.
These muffins are delicious served warm or cold but preferably on the day that they are made.




These muffins were featured by Rosemary Mac Cabe in collaboration with Sunsweet. Rosemary is a blogger, journalist and TV panelist based in Dublin. Check out the video and find out more about Rosemary here
Recipe Categories
Desserts and Sweet Treats, LP Fat Replacement,
Recipe Tags
9, 29,
Other Recipes you might like...