Mocha mousse chocolate & prune pots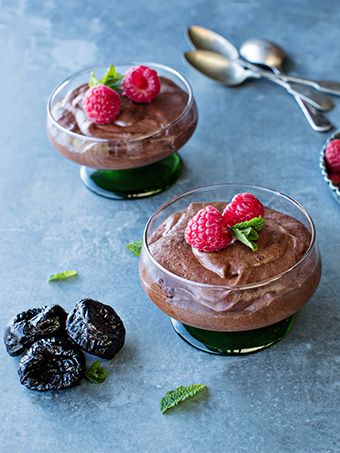 Ingredients
6 tbsp hot strong black coffee (freshly brewed)
175g SUNSWEET pitted prunes, chopped
2 cardamom pods, husks discarded, seeds crushed
300g plain chocolate, broken into pieces (70% cocoa solids)
4 large eggs, separated
100ml cream

Instructions
Take the freshly made coffee and pour over the prunes and cardamom in a bowl. Set aside for half an hour to cool down and allow the prunes to soak up most of the liquid.
Melt the chocolate in a heatproof bowl set over a pan of gently simmering water, make sure that the bottom of the bowl is not touching the water. Remove the bowl from the heat and leave to cool slightly.
Blend the prunes into a smooth paste with a hand-held blender (or you can use a food processor) and then beat in the egg yolks and then stir into the melted chocolate, a spoonful at a time.
Place the egg whites in a large clean, glass bowl and using a balloon whisk or hand-held electric mixer, whisk to form soft peaks. Sprinkle in the sugar and continue to beat until glossy.
Whisk the cream in a separate bowl until soft peaks form and then fold into the chocolate mixture. Take a spoonful of the egg whites and stir into the chocolate mixture. Carefully fold the rest of the egg whites, make sure you don't knock out too much air. Spoon into 8 x 100ml ramekins or serving glasses and chill for at least 2 hours or overnight is best before serving.
Recipe Categories
Desserts and Sweet Treats, LP Fat Replacement,
Recipe Tags
9, 29,
Other Recipes you might like...