Flourless chocolate & prune torte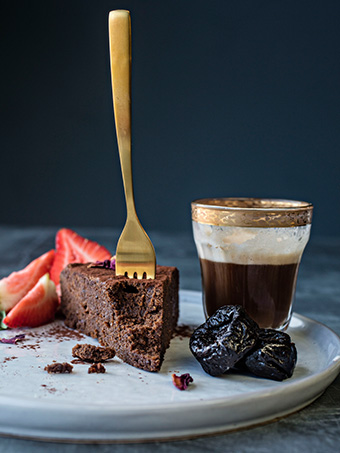 Ingredients
175g SUNSWEET pitted prunes, chopped
6 tbsp Armagnac or rum
175g plain chocolate, broken into pieces (70% cocoa solids)
90g golden caster sugar
90g butter, plus extra for greasing
6 large eggs, separated
175g ground almonds
half fat crème fraiche, to serve
Instructions
Put the prunes with the Armagnac or rum in a small pan and bring to a simmer, then cook for 2-3 minutes or until half of the liquid is gone. Remove from the heat and blend to a puree with a hand-held blend-er. Leave to cool.
Preheat the oven to 170C, (325F), Gas mark 3. Lightly grease a 23cm non-stick loose-bottomed cake tin and line the base with parchment paper
Place the chocolate in a heatproof bowl set over a pan of simmering water and allow to melt, then remove the bowl from the pan and leave to cool.
Place half of the sugar and the butter into a large bowl and using a hand-held electric mixer, beat together until pale and creamy. Beat in the egg yolks followed by the melted chocolate and prune puree.
Whisk the egg whites in a separate bowl until you have achieved soft peaks, then whisk in the remaining sugar until stiff. Gently fold the ground almonds into the meringue, then gently fold into the chocolate mixture in two batches. Spoon into the prepared tin and bake for 30-40 minutes or until a skewer pushed into the centre of the cake comes out clean. Remove from the oven and leave to cool in the tin. Cut into slices and arrange on plates with dollops of the half fat crème fraiche to serve.
Recipe Categories
Desserts and Sweet Treats, LP Fat Replacement,
Recipe Tags
9, 29,
Other Recipes you might like...