Prune & almond cake with honey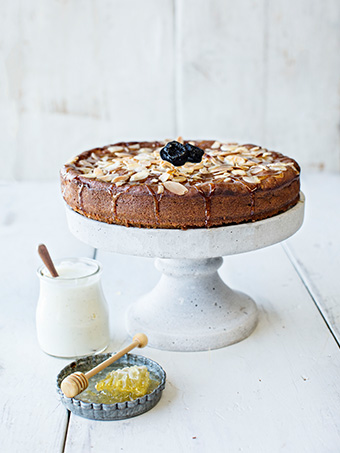 Ingredients
175g SUNSWEET pitted prunes
50g butter, plus extra for greasing
75g light muscovado sugar
2 large eggs
200g plain flour, sifted
1 tsp baking powder
pinch of salt
1/2 tsp ground cinnamon
1 tsp ground cardamom
25g flaked almonds
2 tbsp floral honey

VANILLA YOGHURT:
300g natural yoghurt
1 tbsp icing sugar, sifted
1 vanilla pod, seeds, split in half and seeds scraped out

Instructions
Preheat the oven to 180C, (350F), Gas mark 4. Grease and line a 20cm loose-bottomed cake tin with parchment paper. Place the prunes in a pan with 300ml of water and bring to the boil, then sim-mer for about 10 minutes until the liquid has reduced by half and the prunes have softened.
Remove from the heat and use a hand-held blender to blitz the mix-ture until smooth. Leave to cool a little.
Using an electric hand-held mixer, beat the butter and sugar in a large bowl until pale. Add the eggs, one at a time, mixing until they are incorporated. Fold through the flour, baking powder, salt and spices. Finally fold in the prune puree.
Using a spatula, spread the cake batter into the prepared cake tin. The batter is thick, so use a spatula to spread across the base of the tin and then sprinkle over the almonds.
Bake in the oven for 40-45 minutes until a skewer pushed into the centre comes out clean. Cover with tin foil if you find the almonds are browning too much.
Meanwhile, make the vanilla yoghurt, mix together the yoghurt in a bowl with the icing sugar and vanilla seeds. Cover with clingfilm and chill until needed.
Remove the cake from the oven and leave it in the cake tin to cool. While the cake is still warm, prick it all over with a cocktail stick and drizzle with honey, letting it seep into the holes. Serve generous slices of the cake on plates with a dollop of the vanilla yoghurt to serve.
Recipe Categories
Desserts and Sweet Treats, LP Fat Replacement,
Recipe Tags
9, 29,
Other Recipes you might like...