Sticky toffee pudding with prunes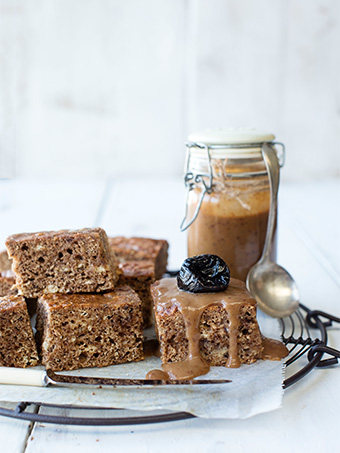 Ingredients
175g SUNSWEET pitted prunes, chopped
1 tsp bicarbonate of soda
50g butter, at room temperature, plus extra for greasing
75g golden caster sugar
1 tsp vanilla extract
2 large eggs, beaten
200g self-raising flour, sifted

PRUNE TOFFEE SAUCE:
75g SUNSWEET pitted prunes, chopped
2 tbsp butter
2 tbsp dark muscovado sugar
1 tbsp golden syrup
2 tbsp cream
half fat crème fraiche, to serve (optional)
Instructions
Preheat oven to 180C, (350F), Gas mark 4.
Grease a 30cm x 20cm non-stick baking tin. Place the prunes in a pan with 300ml of water and bring to the boil, then simmer for about 10 minutes until the liquid has reduced by half and the prunes have softened.
Remove from the heat and use a hand-held blender to blitz the mix-ture until smooth, then stir in the bicarbonate of soda until the mixture stops foaming.
Place the butter and caster sugar in a large bowl and using an elec-tric hand-held mixer, cream together until light and fluffy, then beat in the vanilla. Gradually add the eggs, beating well after each addition.
Fold in the flour with a metal spoon and finally fold in the prune mix-ture. Pour into the prepared baking tin and cook for 20-25 minutes until well risen and firm to the touch.
When the pudding is cooked, remove from the oven and after 5 minutes turn out on to a wire rack to cool completely.
Toffee Sauce
To make the toffee sauce, put the prunes into a pan with 175ml of water and cook gently for about 5 minutes until softened. Blitz with a hand-held blender until smooth, then stir in the butter, dark muscovado sugar, golden syrup and cream and simmer gently for a few minutes until the butter has melted and the sugar has dissolved, stirring regularly. This makes 250ml of prune toffee sauce.
To Serve
Cut the pudding into portions and arrange on plates. Pour over some of the toffee sauce to serve or flash under a hot grill until bubbling, if you'd prefer to serve it warm, adding a dollop of the half fat crème fraiche if you fancy it.
Recipe Categories
Desserts and Sweet Treats, LP Fat Replacement,
Recipe Tags
9, 29,
Other Recipes you might like...