Baked Prune Whip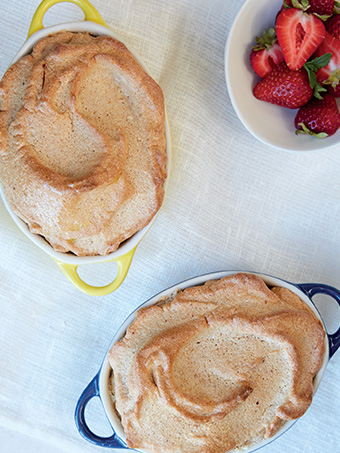 Ingredients
175g SUNSWEET prunes
240ml SUNSWEET Prune Juice or water
1 Tbsp lemon juice
1 tsp almond extract
3 egg whites
Pinch salt
50g sugar
Instructions
Preheat oven to 180°C and butter a 1.5 litre baking dish.
Cook prunes in desired liquid for 10 minutes or until soft. Drain excess liquid.
Press through a fine mesh sieve using the back of a wooden spoon until most of the prunes have been pressed through. Stir in lemon juice and almond extract.
Beat egg whites and salt in a bowl with an electric mixer until stiff peaks form. Gradually beat in sugar. Carefully fold in prune purée until very few streaks remain.
Spoon mixture into buttered dish. Place dish in a pan with several inches of hot water and cook for 45–55 minutes. Best served immediately.
Recipe Categories
LP Gluten Free, LP Prune Juice Recipes,
Recipe Tags
["Vegetarian/Meatless","Gluten Free","Under 500 calories"]
26, 30,
Other Recipes you might like...