Prune Chutney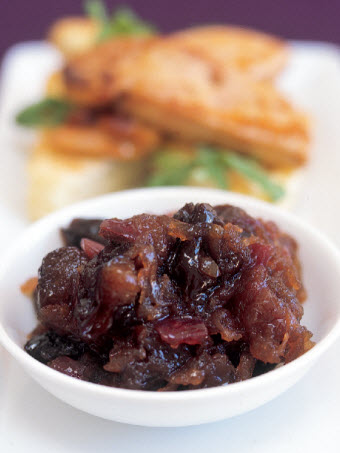 Ingredients
1 teaspoon peanut and vegetable oil\r
1 small onion, chopped finely\r
250g SUNSWEET® prunes, chopped\r
1 tablespoon freshly grated root ginger\r
2 cloves of garlic, crushed\r
1 small bay leaf\r
75g soft brown sugar\r
100ml cider (or rice wine vinegar)\r
½ teaspoons ground allspice\r
salt and pepper
Instructions
Heat the oil in a pan over a low heat
Add the onion, a little salt and pepper, and all the allspice
Cook for 10 minutes, or until soft, stirring occasionally
Add the prunes, ginger, garlic and bay leaf and cook gently for about 10-12 minutes.
Add the sugar and vinegar and cook until the chutney is the consistency of a chunky applesauce.
Season with salt, pepper and sugar to taste.
Serve warm or leave to cool. Will keep for several weeks in the fridge.
Great with savoury foods and as an accompaniment to cheese.
Recipe Categories
Sauces and Relishes,
Recipe Tags
Vegetarian/Meatless,
Other Recipes you might like...