Banana Prune Smoothie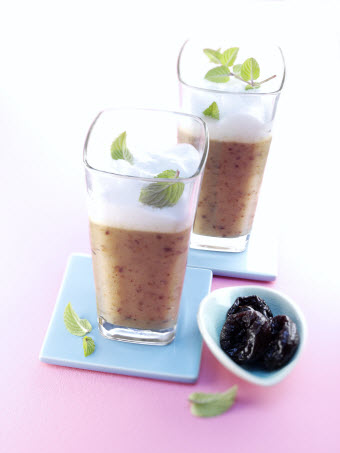 Ingredients
100 g SUNSWEET prunes
250 ml banana juice, cooled
250 ml kefir zest and juice of ½ organic lemon
1/2 teaspoon cinnamon
125 ml milk, cooled
Mint for garnish
Instructions
In a blender, blend the prunes and add banana juice and kefir little by little. Add cinnamon, lemon juice and zest.
Whisk the milk with a hand mixer. Shortly remix smoothie and fill in glasses, top with milk foam and garnish with mint leaves.
Recipe Categories
Breakfast, Drinks and Smoothies, LP Gluten Free, LP Prep Under 15 mins,
Recipe Tags
Vegetarian/Meatless, Gluten Free, Prep under 15 Mins,
Other Recipes you might like...