Mango Madness Smoothie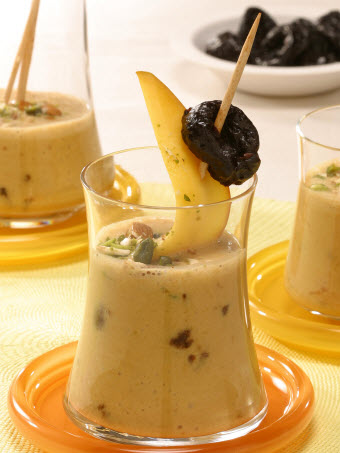 Ingredients
1 orange
1 mango stoned, peeled and chopped
120 – 125ml SUNSWEET Prune Juice
100g low fat natural yoghurt
100ml semi-skimmed milk
Instructions
Grate the rind of the orange then cut off the peel and cut into segments – do this over a bowl to catch the juice.
Place the orange rind and segments in a liquidiser with the remaining ingredients, including the juice, and whiz until smooth.
Pour into 2 glasses and drink immediately.
Recipe Categories
Breakfast, Drinks and Smoothies, LP Gluten Free, LP Prep Under 15 mins, LP Prune Juice Recipes,
Recipe Tags
Vegetarian/Meatless, Gluten Free, Prep under 15 Mins,
Other Recipes you might like...