Prune Clafoutis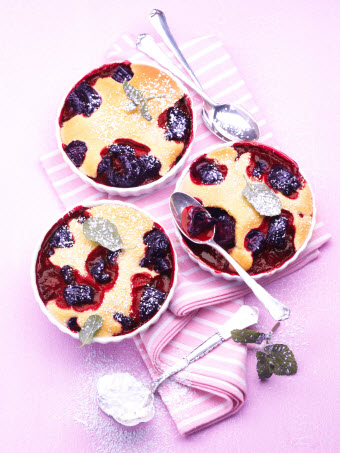 Ingredients
200 g frozen raspberries (thawed)\r
Juice from ½ lemon\r
100 g Sunsweet prunes\r
2 medium eggs \r
25 g sugar\r
60 g flour\r
1 pinch of baking powder\r
10 g vanilla sugar\r
1 pinch of cinnamon\r
Grated zest of ½ organic lemon\r
125 ml low fat milk\r
Some butter for the baking forms \r
Mint leaves as desired\r
Confectioners' sugar for dusting
Instructions
Sieve raspberries and lemon juice into a saucepan and heat. Cut the prunes in half and add to the saucepan. Bring it to a slow boil and stir. Set aside.
Separate the eggs. Beat egg whites until stiff. Then add the sugar and beat the mixture. Mix the flour, baking powder, vanilla sugar, cinnamon, and lime zest in a bowl. Gradually stir in the milk and beaten egg yolks to the flour mixture. Fold egg whites mixture into flour mixture.
Brush the four flat, fireproof baking forms (approx. 12-13 cm diameter) with butter. Distribute the raspberry-prune sauce in each of the 4 forms. Then pour the batter mixture over the sauce. Bake in a pre-heated oven at 180-200° C (Gas: 3, Convection: 160-180° C) for 15-20 minutes. Add mint leaves on top and dust with confectioners' sugar. Serve immediately.
Recipe Categories
Desserts and Sweet Treats,
Recipe Tags
Vegetarian/Meatless,
Other Recipes you might like...