Crunchy Prune Muesli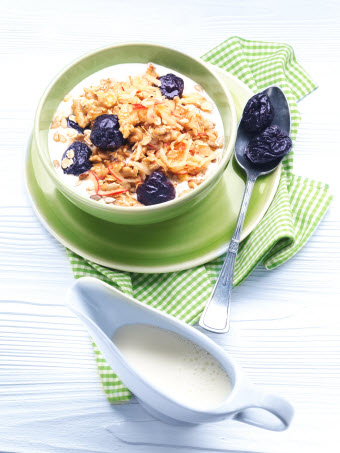 Ingredients
3 tbsp maple syrup
3 tbsp orange juice (freshly squeezed)
40 g walnuts
120 g whole grain oats
30 g sunflower seeds
2 tart apples
Few drops of lemon juice
120 g SUNSWEET prunes
500 ml low fat milk
Instructions
Stir maple syrup and orange juice in a bowl. Chop up walnuts and mix it well together with the oatmeal and sunflower seeds in a bowl. Spread it on the parchment paper placed on the baking sheet. Bake in a pre-heated oven at 160 ° C (Gas: 1-2, Convection: 140° C) for about 20 minutes and let it roast, stirring the mixture 2-3 times. After baking, let it to cool.
Wash the apples, cut into quarters, remove the seeds, and grate. Mix the apples with lemon juice. Add apples and prunes into the cooled muesli mix when distributing it to the serving bowls. Pour milk just before serving.
Recipe Categories
Breakfast,
Recipe Tags
Vegetarian/Meatless,
Other Recipes you might like...