Prune philadelphia Torte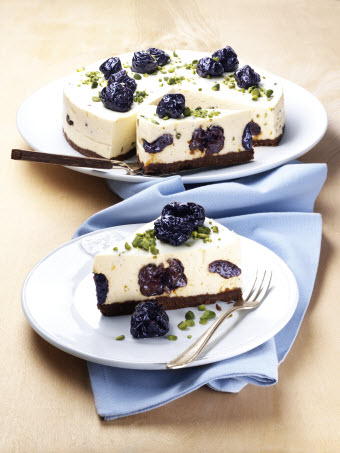 Ingredients
For the crust:
150 g American chocolate cookies (ex. Oreos)
80 g low fat butter

For the prunes:
Juice from 1 orange
Juice from 1 lemon
200 g SUNSWEET prunes

For the filling:
12 sheets of white gelatin
700 g low-fat cream cheese
250 g low-fat yogurt
75 g sugar
Grated zest from 1 organic orange
150 ml cream
30 g pistachios
Instructions
Crumble the American chocolate cookies coarsely and then pulse in a food processor. Knead the butter and cookie mixture together. Place parchment paper at the bottom of the spring form pan (24 cm diameter with the spring form ring). Press the crust mixture into the bottom of the pan. Place the pan in the refrigerator for about 1 hour to cool.
Add the prunes, orange juice, and lemon juice in a saucepan and simmer for 1-2 minutes. Let it cool.
For the filling, soak the gelatin in cold water. Mix the cream cheese, yogurt, sugar, and orange zest together. Take the prunes with the liquid and pour it through a sieve, collecting the liquid. Heat up the liquid. Squeeze liquid out of gelatin, then add gelatin to the hot liquid and let it dissolve. Pour the liquid into the cream cheese batter and quickly stir. Let it cool until it slightly starts to harden. Beat heavy cream until stiff, and fold into the cream cheese mixture. Chop up the pistachios. Mix about 25 g pistachios into the cream cheese mixture.
Take 1/3 of the cream cheese mixture and spread the first layer on the bottom of the pan. Keep couple of prunes for garnishing later, and put the rest on top of first layer. Put the rest of the cream cheese mixture on top and spread it smoothly and evenly. Now garnish the rest of the cake with the remaining prunes. Cool the torte about 3-4 hours in the refrigerator.
Just before serving, remove the spring form ring and carefully lift the cake onto a plate. Sprinkle the remaining pistachios on top of the cake.
Recipe Categories
Desserts and Sweet Treats,
Recipe Tags
Vegetarian/Meatless,
Other Recipes you might like...