Prune Cinnamon Rolls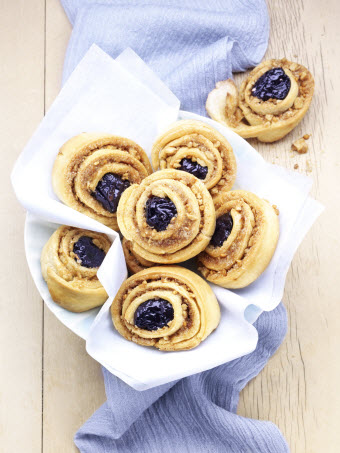 Ingredients
For the yeast dough:
70 g butter
180 ml low-fat milk
350 g wheat flour
1 package of dry yeast
40 g sugar
60 g walnuts
40 g sugar
20 g vanilla sugar
1 tsp cinnamon
1 medium egg white
40 g soft butter
280 g SUNSWEET prunes
Icing sugar
Instructions
Melt the butter and add milk. Mix flour and dry yeast in a bowl. Add the butter/milk mix and knead into smooth dough with a dough hook. Cover the dough and allow to rise for approx. 30 minutes in a warm spot.
Finely chop the walnuts and mix with sugar, vanilla sugar and cinnamon. Work in egg white.
Divide dough into four portions. Roll out each portion to a narrow rectangle of about 12 x 24 cm. Apply each rectangle with a quarter of the butter and the walnut mixture. Cut the rectangles in approx. 4 cm wide strips. Wrap one prune into each strip.
Put the rolls on a backing tray covered with parchment paper. Bake in pre-heated oven at 180° C (Gas: 2-3, Convection: 160° C) for 15-20 minutes. If desired, sprinkle with icing sugar.
Recipe Categories
Breakfast, Desserts and Sweet Treats,
Recipe Tags
Vegetarian/Meatless,
Other Recipes you might like...