Prune Brittle Muffins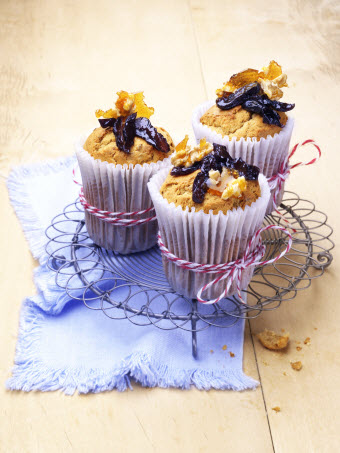 Ingredients
For the praline:
60 g walnuts
40 g sugar

For the dough:
80 g SUNSWEET prunes
250 g low-fat yogurt
225 g wheat flour
2 heaped tsp baking powder
2 medium eggs
60 g sugar
10g vanilla sugar
1 pinch of salt
6 tbsp olive oil

To serve:
12 paper baking cups (muffin cups)
10 SUNSWEET prunes
2 tsp honey (liquid)
Instructions
Coarsely chop up the walnuts. Put sugar in a pan and caramelise to a golden yellow. Add walnuts and stir in while caramelising. Put walnuts on a piece of parchment paper and allow it to cool. Remove 12 small pieces of walnuts for garnishing, and then finely chop up the rest.
Coarsely cut up the prunes. Mix prunes with yogurt and puree with a hand blender. Mix flour and baking powder. Beat the eggs with sugar, vanilla sugar, salt and olive oil in another bowl. Stir in the yogurt-prune puree. Combine the batter with the flour mixture and walnut-pralines, and mix everything together.
Put the paper baking cups in the muffin pans wells. Add 1 tbsp of dough into paper baking cups. Cut 6 prunes in half. Put each half of the prunes in each muffin and spread the remaining batter over it. Bake in a pre-heated oven at 175° C (Gas: 2-3, Convection: 160° C) about 25 minutes.
After baking, brush the muffins with honey. Cut the remaining prunes into strips. Garnish with the remaining prunes and walnut pralines on top of the muffins.
Recipe Categories
Desserts and Sweet Treats,
Recipe Tags
Vegetarian/Meatless,
Other Recipes you might like...