Prune Banana Cake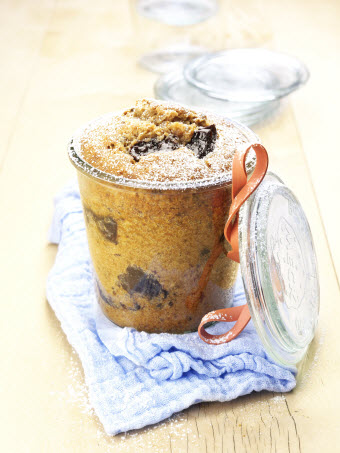 Ingredients
200 g banana (peeled)
200 g SUNSWEET prunes
100 ml oat milk
250 g wheat flour
2 tsp baking powder
2 tsp unsweetened cocoa powder
2 tsp cinnamon
2 medium eggs
100 g sugar
10 g vanilla sugar
100 ml sunflower oil
Oil for greasing the preserve jars
Powdered sugar for dusting
4 x 500g preserve jars
Instructions
Roughly divide the bananas into large pieces and chop up the 100 g prunes. Add the oat milk, banana, and prunes in a tall mixing bowl and puree with a hand blender.
For the dry ingredients bowl, add the flour with baking powder, cocoa powder, and cinnamon. In another bowl, beat the eggs with sugar and vanilla sugar until fluffy. In the same bowl, gradually stir in the sunflower oil and the banana plum puree.
After the wet ingredients are mixed together, gradually stir in the flour mixture. Add the other 100 g prunes and fold into the batter.
Grease the preserve jars with oil and pour in the batter. Bake in a preheated oven at 180° C (Gas: 2-3, Convection: 160° C) for about 35-40 minutes. Dust with powdered sugar.
Recipe Categories
Desserts and Sweet Treats,
Recipe Tags
Vegetarian/Meatless,
Other Recipes you might like...