Apple Prune Sorbet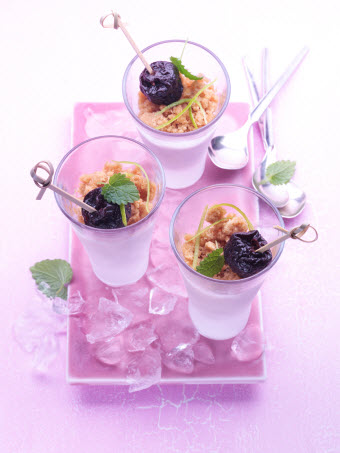 Ingredients
2 tart apples
125 g SUNSWEET prunes
3 organic limes
500 ml water
2 tbsp coconut syrup
1 medium egg white

To garnish:
Add prunes as desired
Lime zest
Lemon balm (balm mint)
Instructions
Cut apples into quarters, then remove the seeds, peel, and cut into pieces. Combine apples with the prunes in a large pot. Wash the limes. Grate 1 lime and put the lime zest aside. Squeeze the juice from all the limes. Add the water and lime juice to the large pot. Simmer with a lid for about 15 minutes.
Puree everything with a hand blender in a pot. Then pour through a fine sieve. Stir in lime zest and coconut syrup. Let it cool.
Beat egg whites until stiff and stir. Pour it into the ice cream maker to freeze the sorbet.
Cool glasses in advance or just freeze. Distribute sorbet into the glasses. Garnish with prunes, lime zest, and lemon. Serve immediately.
Tip: If you don't have an ice cream maker, pour mixture into a bowl and freeze. Every now and then, stir vigorously into a creamy consistency.
Recipe Categories
Desserts and Sweet Treats, LP Gluten Free,
Recipe Tags
Vegetarian/Meatless, Gluten Free,
Other Recipes you might like...