Prune Fitness Shake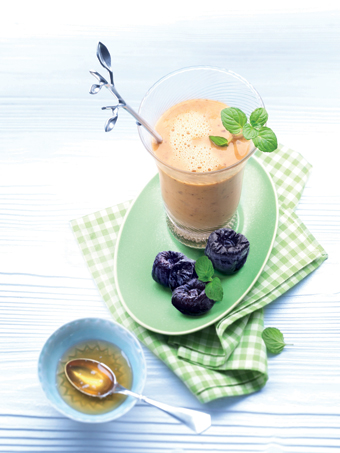 Ingredients
80 g fresh ginger root
100 g SUNSWEET prunes
400 ml water
50 g banana (peeled)
125 g low-fat yogurt (0.1 % fat)
200 ml orange juice (best when freshly squeezed)
1-2 tsp. honey (liquid)
Mint leaves for garnish
Instructions
Peel the ginger root and cut into chunks. Place the prunes and water in a saucepan. Cover the saucepan and let it simmer for 5 minutes. Let cool.
Put the prunes (remove ginger) with liquid in a tall mixing bowl and puree. Cut the banana into pieces and add it to the mixing bowl together with the yogurt and orange juice, mixing it well at a high speed. Sweeten it with honey. Pour into glasses and garnish with mint leaves. Serve immediately.
Recipe Categories
Breakfast, Drinks and Smoothies, LP Gluten Free, LP Prep Under 15 mins,
Recipe Tags
Vegetarian/Meatless, Gluten Free, Prep under 15 Mins,
Other Recipes you might like...