Ham Toast with Prune Salsa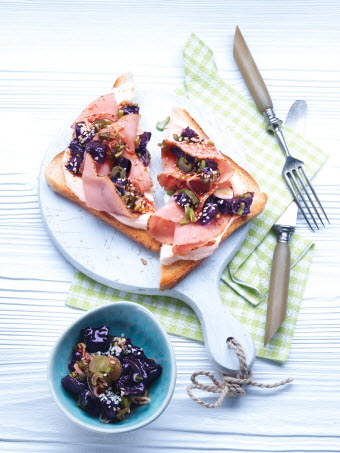 Ingredients
For the salsa:
80 g SUNSWEET prunes
2 green onions
4 tbsp Cumberland sauce
Salt
Cayenne pepper

In addition:
4 slices of toast
80 g low-fat cream cheese
80 g lean cooked ham, thinly sliced
2 tsp sesame seeds
Instructions
Dice prunes into small pieces. Wash the green onions and cut into fine pieces. Stir the Cumberland sauce into the prunes and green onions. Season with a pinch of salt and cayenne pepper.
Lightly toast the slices of bread. Spread the cream cheese on toast and then place ham on top. Then add salsa on top of toast with a sprinkle of sesame seeds.
Recipe Categories
Canapes and Savoury Snacks, LP Prep Under 15 mins,
Recipe Tags
Prep under 15 Mins,
Other Recipes you might like...