Gorgonzola mousse with Prunes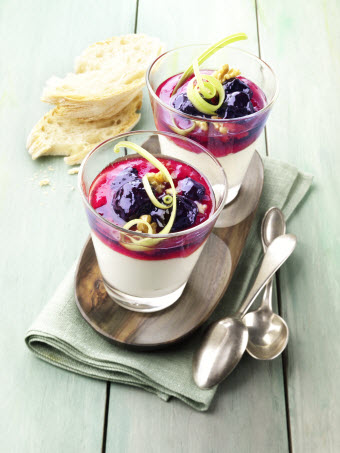 Ingredients
For the mousse:
150 g gorgonzola
250 g mascarpone
200 g low fat yogurt
pepper from a mill
1 pinch powdered aniseed
lemon juice

Topping:
125 ml white wine
2 tablespoon of plum jam
2 teaspoon of chilli sauce
150 g SUNSWEET prunes
1 stem celery
20 g walnut kernels
Instructions
Cut gorgonzola in small pieces and put in a bowl. Add mascarpone and yogurt, whisk until creamy with an immersion blender. Season to taste with pepper, powdered aniseed and lemon juice. Fill in glasses and keep in refrigerator until needed.
Mix white wine with plum jam and chilli sauce. Cut prunes in halves or quarters, add to sauce and store in a cool place.
Wash and clean celery, cut in very fine strips. Chop walnut kernels. Spread the prune sauce onto the gorgonzola mousse and garnish with celery and chopped walnuts. Serve with baguette.
Tip: To create a fancy garnish, cut the celery in very thin stripes and put them in a bowl with ice cubes. This way, they start curling in a creative manner.
Recipe Categories
Desserts and Sweet Treats, LP Gluten Free,
Recipe Tags
Vegetarian/Meatless, Gluten Free,
Other Recipes you might like...