Salad of endives with prunes and chickpeas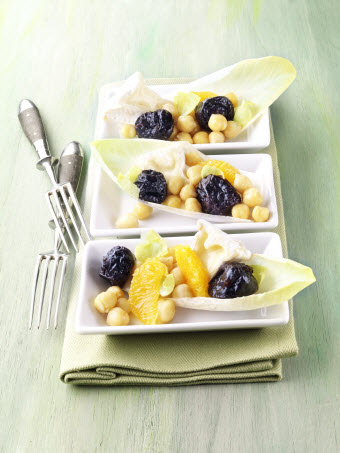 Ingredients
3 tablespoon of sherry vinegar
salt, pepper from a mill
1/2-1 teaspoon cayenne pepper
1 teaspoon sugar
4 tablespoon of olive oil
2 oranges
150 g canned chickpeas
200 g SUNSWEET prunes
2 endives
200 g camembert
Instructions
Stir vinegar with salt, some freshly grounded pepper, cayenne pepper and sugar in a large bowl. Fold the olive oil in. Peel and fillet the oranges, keeping the juice. Mix the orange juice with the vinaigrette. Add chickpeas and prunes. Cover the bowl and let marinate in a cool place for approx. 30 minutes.
Clean and wash the endives, remove the leaves from the stem. If necessary, cut bigger leaves in smaller pieces. Cut camembert in smaller pieces.
Fold endives and orange fillets casually into the chickpeas-prunes-mixture and season again to taste. Prepare the salad with the camembert pieces.
Recipe Categories
LP Bone Health, Sides and Salads, Starters and Appetizers,
Recipe Tags
Vegetarian/Meatless,
Other Recipes you might like...