Raclette potatoes with prunes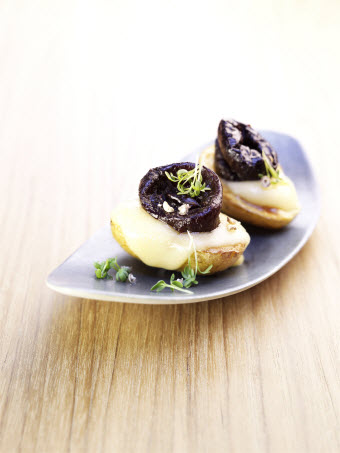 Ingredients
8 potatoes
2 teaspoon oil
Salt, pepper
125 g raclette cheese (one thick slice)
16 SUNSWEET prunes
Cress for topping
Instructions
Clean potatoes under running water thoroughly. Halve potatoes and hollow out with a melon baller (potato leftovers could be used for a soup).
Place hollowed potatoes on a tray with baking paper. Sprinkle with some salt and pepper. Dice raclette cheese and place into the hollows. Bake potatoes in a preheated oven at 200 °C (Gas: Level 3-4, circulating air: 180 °C) for approx. 20 minutes.
Press one prune lightly into the cheese of each potato and serve sprinkled with cress.
Recipe Categories
Sides and Salads,
Recipe Tags
Vegetarian/Meatless,
Other Recipes you might like...