Prune-Cheese-Involtini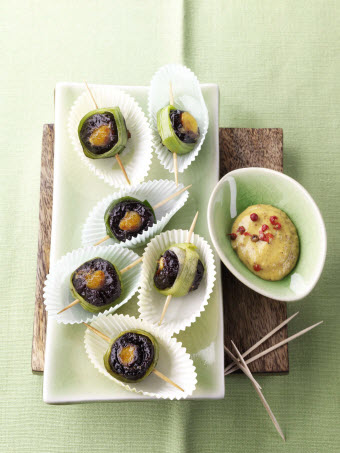 Ingredients
For the involtini:
1 stem leek
salt
125 g cheddar cheese
20 SUNSWEET prunes (approx. 200 g)
wood skewers
1 tablespoon of oil

For the dip:
3 tablespoon of sweet mustard
3 tablespoon of hot Dijon mustard
pounded pink pepper berries
Instructions
Clean the leeks, cut lengthwise in half, wash thoroughly and blanch in plenty salted water for 1-2 minutes. Strain, rinse with cold water and pat dry. Cut again in half lengthwise if necessary.
Cut cheddar in 20 longish pieces. Bend the prunes slightly open and put the cheddar inside. Wrap with leek stripes and secure it with wood skewers. Heat the oil in a non-stick frying pan and sauté the prune-involtini gently.
Mix both mustards and season with pink pepper berries. Serve the dip with the prune-involtini.
Recipe Categories
Canapes and Savoury Snacks,
Recipe Tags
Vegetarian/Meatless, Under 500 calories,
Other Recipes you might like...