Onion Focaccia with Marinated Prunes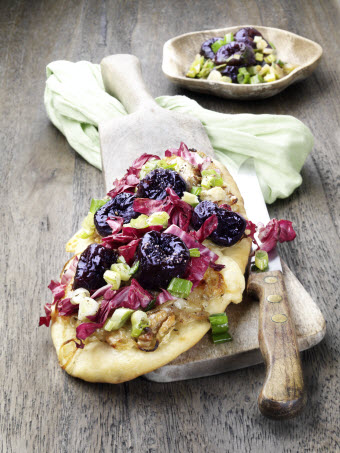 Ingredients
For the marinated prunes:
6 tablespoons red wine vinegar
1-2 tablespoons brown sugar
1 tablespoon olive oil
1-2 teaspoons chilli powder
Salt
200 g SUNSWEET prunes
3 spring onions

For the topping:
1 onion
2 tablespoons olive oil
1-2 teaspoons chopped rosemary
Salt, pepper from the mill
30 g walnut kernels
300 g Fontina cheese in
slices (or raclette cheese)

For the yeast dough:
250 g flour
1 tsp. salt
1/2 cube fresh yeast
1 teaspoon sugar
2 tablespoons olive oil
125-175 ml lukewarm water

Additionally:
1 small head of radicchio
Instructions
Boil vinegar, sugar, olive oil and chilli powder. Season to taste with salt and pour over the prunes. Put aside.
For the yeast dough, mix flour and salt. Make a hole in the middle and pour in the yeast and sugar (which should be dissolved in 125 ml of water). Mix with a little flour. Covered in a warm spot, let the dough prove for approx. 10 minutes. Add olive oil and knead into smooth dough with a dough hook. Cover and let prove for approx. 30-45 minutes.
Peel onions, cut into thin rings. Heat 1 tablespoon olive oil in a non-stick pan and sauté the onions until glazed. Add rosemary and briefly sauté as well. Season with a little salt and plenty of pepper.
Knead yeast dough, divide into 6 portions. Roll out dough into flat cakes on a lightly floured surface. Place on baking trays lined with baking paper. Puncture several times with a fork and brush with remaining olive oil. Spread onions on top. Chop walnuts and sprinkle on top. Cover with cheese slices. Bake in a preheated oven at 200-220 °C (gas: 4-5, convection: 180-200 °C) for approx. 15-20 minutes.
For the prunes, clean the spring onions and cut them into fine rings. Heat prunes to lukewarm temperature in the stock. Mix in spring onions. Wash radicchio leafs, dab dry and cut into strips. Place on Onion Focaccia Breads and add marinated prunes on top. Serve immediately.
Recipe Categories
Canapes and Savoury Snacks, Starters and Appetizers,
Recipe Tags
Vegetarian/Meatless,
Other Recipes you might like...