Lemongrass and prune skewer with white cabbage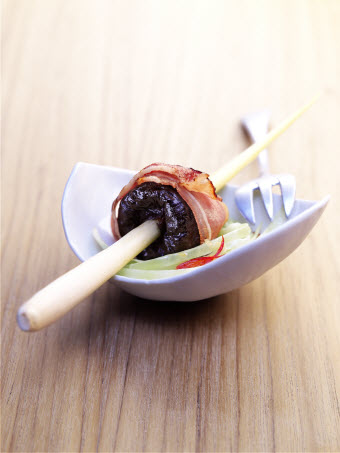 Ingredients
6 slices bacon
12 SUNSWEET prunes
6 stalks lemongrass
200 g white cabbage
Salt
2 tablespoons oil
½ small red chilli
1 piece ginger (hazelnut size)
Instructions
Halve bacon and wrap the prunes with bacon. Rinse lemon grass and halve lengthwise. Push one dried plum onto each stalk.
Cut white cabbage into strips and slice finely. Sprinkle with some salt and mix thoroughly with a masher.
Heat up 2 teaspoons oil in a coated pan. Add and steam cabbage for approx. 5 minutes. Clean chilli, rinse and slice finely. Peel ginger and grate. Add chilli and ginger to the cabbage and steam together. Season cabbage with salt.
Heat remaining oil and fry skewers. Arrange lemon grass and prunes skewers on white cabbage.
Recipe Categories
Canapes and Savoury Snacks, Starters and Appetizers,
Recipe Tags
Under 500 calories,
Other Recipes you might like...