Goat cream cheese with mustard and quince prunes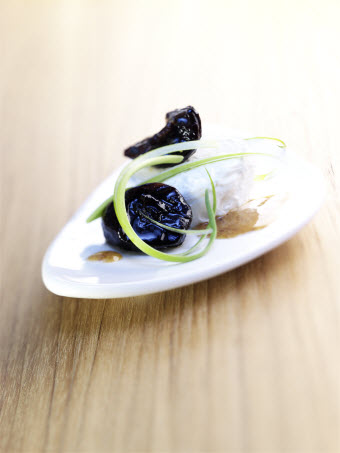 Ingredients
40 g quince jelly
80 ml white wine
20 g SUNSWEET prunes
2 teaspoons hot mustard
1 tablespoon sweet mustard
2 spring onions
4 small, round goat cheese
Instructions
Bring quince jelly and white wine to a boil in a small pot. Slightly boil down to a syrup. Add prunes, turn over and allow to simmer. Add mustard to the wine stock.
Clean spring onions, rinse and cut into small strips.
Arrange goats cheese with prunes in the mustard sauce and spring onions.
Recipe Categories
Canapes and Savoury Snacks, LP Prep Under 15 mins, Starters and Appetizers,
Recipe Tags
Vegetarian/Meatless, Prep under 15 Mins,
Other Recipes you might like...