Cinnamon Curd with Prunes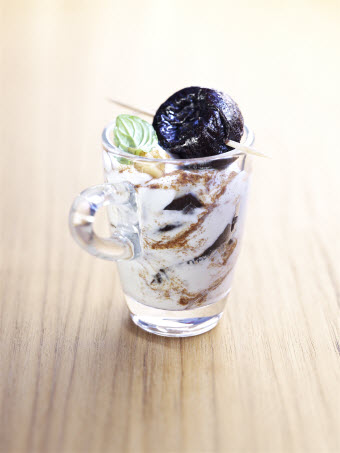 Ingredients
150 g SUNSWEET prunes
2 tablespoons orange juice (freshly squeezed)
20 g walnuts
500 g low fat curd
1 teaspoon cinnamon
Mint leaves
Instructions
Place four prunes aside. Cut the remaining into strips and mix with orange juice.
Chop walnuts and dry roast in a pan.
Mix curd with cinnamon. Work in walnuts and sliced prunes.
Fill curd into jars. Poke remaining plums onto a wooden skewer and use to garnish the curd. Top with some mint leafs and serve.
Recipe Categories
Breakfast, Desserts and Sweet Treats, LP Bone Health, LP Prep Under 15 mins,
Recipe Tags
Vegetarian/Meatless, Prep under 15 Mins,
Other Recipes you might like...