Avocado Pea Cream with Poultry Prune Skewers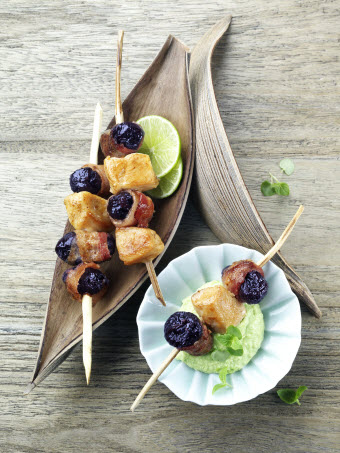 Ingredients
For the cream:
2 shallots
1 tablespoon oil
300 g frozen peas
200 ml vegetable stock
2 ripe avocados
150 g low-fat yoghurt
2-3 tsp. wasabi paste

For the skewers:
300 g chicken breast
salt, pepper
50 g bacon (lean, in thin strips)
16 SUNSWEET prunes (approx. 160 g)
1 tablespoon oil

for seasoning:
grated peel and juice of 1 organic lime
salt For the skewers:
300 g chicken breast
salt, pepper
50 g bacon (lean, in thin strips)
16 SUNSWEET prunes (approx. 160 g)
1 tablespoon oil

Additionally:
wood skewers
add lime slices and some shiso cress to your taste
Instructions
Peel shallots and dice. Heat oil in a pot and sauté shallots. Add peas and stock. Boil with lid on for approx. 15 minutes until soft. Halve avocados, remove stones and scoop flesh from the skin. Puree avocado, yoghurt and wasabi. Puree the peas in the pot. Fold in the avocado cream and briefly heat while stirring. Season to taste with lime peel, juice and salt.
Wash chicken breasts and dab dry. Cut meat into bite-sized pieces. Season with salt and pepper. Halve bacon along diagonally. Wrap every prune with one strip of bacon. Place chicken pieces and dried prunes on wetted wood skewers (alternate chicken and prunes). Heat oil in a coated pan. Fry the skewers from all sides for approx. 8-10 minutes.
Serve the avocado cream alongside the poultry and prune skewers. Garnish with lime slices and cress.
Recipe Categories
Canapes and Savoury Snacks, Mains, Starters and Appetizers,
Recipe Tags
Other Recipes you might like...