Vegetarian Tortillas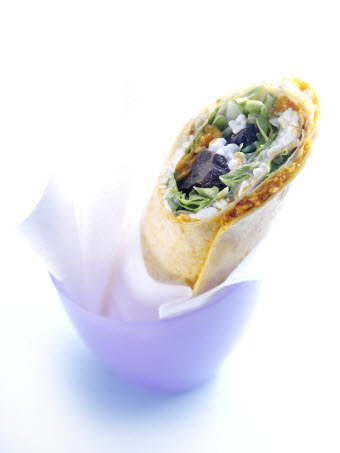 Ingredients
1 ripe avocado
3-4 tablespoons of hot chilli sauce
Zest of ½ organic lemon
Salt
¼ head iceberg lettuce (approx. 150 g green leaves)
1 celery stick
4 soft tortilla wraps (58 g each)
200 g low fat cottage cheese
200 g SUNSWEET prunes
Instructions
Chop iceberg lettuce into thin slices, wash and shake dry. Cut avocado in half, remove pit and spoon out the avocado meat. Mash avocado with a fork. Add hot chilli sauce and lemon zest and mix well. Season with salt. Clean and wash celery and cut lengthwise into very thin slices.
Spread first the avocado mixture, then the cottage cheese on the tortilla wraps. Coat half of the wrap with iceberg lettuce. Place the prunes and celery lengthwise on the wrap. Roll up the wrap very tightly and cut diagonally in half.
Recipe Categories
Canapes and Savoury Snacks, Mains,
Recipe Tags
Vegetarian/Meatless,
Other Recipes you might like...