Chicken Lettuce Wrap with Asian Prune Sauce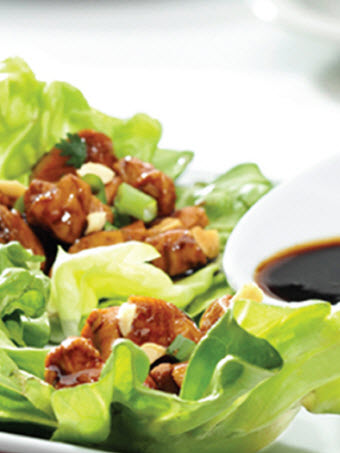 Ingredients
1 tablespoon sesame oil
1 lb. boneless, skinless chicken breasts, cut into very small pieces.
1 tablespoon grated fresh ginger
2 cups SUNSWEET Prune Juice
1/4 cup honey
2 tablespoons each: soy sauce and rice vinegar
16 small butter lettuce leaves (or other desired lettuce)
Chopped peanuts, coriander leaves and sliced spring onion
Instructions
Heat sesame oil in a medium skillet.
Add chicken and cook, stirring frequently for 5 minutes, or until browned and cooked through.
Add ginger and cook for 1 minute more; set aside.
Combine prune juice, honey, soy sauce and rice vinegar in a medium saucepan; cook over medium-high heat for 20 minutes or until glaze is thickened (mixture will thicken as it cools).
Stir about half the glaze into the chicken to coat well; cook for additional 5 minutes.
Serve chicken in lettuce leaves and sprinkle with peanuts, coriander and green onions, as desired.
Serve remaining sauce on the side.
Recipe Categories
Canapes and Savoury Snacks, LP Prune Juice Recipes, Sides and Salads, Starters and Appetizers,
Recipe Tags
Other Recipes you might like...