Serve up Bone Strength - Patient Brochure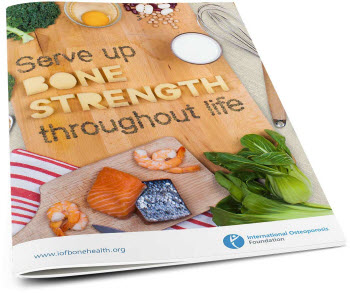 The International Osteoporosis Foundation have developed this excellent guide to maintaining bone health, and as a supporter of their work, we are able to share this with you directly via our website.
It explains in a step by step way how to select foods that will provide the key nutrients our bones need daily - calcium, vitamin D, protein and micronutrients such as vitamin K. You can take the IOF's own One-Minute Osteoporosis Risk Test by following the link on page 17. Risk factors for osteoporosis are also explained.
With useful sections for different age groups, this easy-to–follow guide is a great place to start your family's and your own bone-friendly lifestyle.
For further and more detailed information, Download the IOF Serve up Bone Strength patient brochure by clicking in Download button below.