Rugelach Pastries with Prune and Hazelnut Filling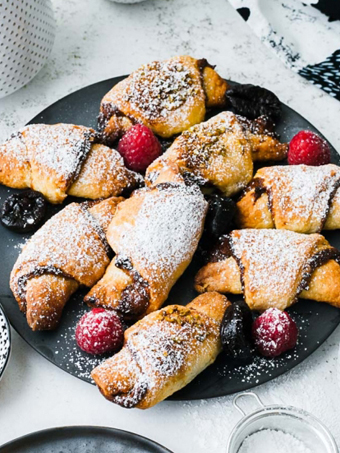 Ingredients
170 g double cream cheese
160 g butter, room temperature
60 g sour cream
60 g sugar
1 pinch of salt
250 g flour

For the filling:
125 g SUNSWEET prunes
60 g hazelnuts
40 g raw cane demerara sugar
Instructions
For the dough, mix cream cheese, butter, sour cream, sugar and salt with the whisk attachment of the hand-held mixer until all ingredients have combined. Briefly stir in half the flour. Then work in the remaining flour with the dough hooks until you get a homogenous mixture. Form the dough into a ball and place in a bowl, cover and leave for at least 1 hour or overnight in the fridge.
For the filling, cover the prunes with boiling water and allow to soak for 10 minutes. Ground the sugar with the hazelnuts in the blender until the mixture has the consistency of damp sand. Drain the prunes and add to the hazelnut and sugar mixture with 2 tbsp of cold water. Mix everything together until you get a thick paste.
Form the dough into two balls and roll each one out to a circle about 1 cm thick (sprinkle with flour if necessary). Spread the prune filling over the dough circles – leaving about 1 cm free at the edges.
Cut each dough circle with a dampened knife into eight equal "cake slices". Roll up the triangles from the wider base to the pointed tip (like a croissant).
Place the rolled-up Rugelach pastries onto a baking tray lined with baking paper and bake in a preheated oven (electric oven: 170°C/fan: 150°C) for 30-35 minutes until slightly browned. Remove from the oven and allow to cool. Dust them with icing sugar if you wish.
Recipe Categories
Breakfast, Desserts and Sweet Treats, LP Bone Health,
Recipe Tags
["New Recipe","Vegetarian/Meatless","Under 500 calories"]
4, 9, 27,
Other Recipes you might like...