One Pot Chicken with Rice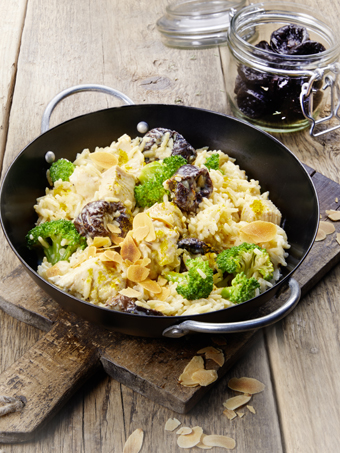 Ingredients
200 g long grain rice, e.g. Basmati
1 tbsp olive oil
1 onion
1 garlic clove
300 g chicken breast fillet
600 ml chicken stock (fresh or instant)
150 g SUNSWEET prunes
300 g broccoli, in florets
125 g double/whipping cream
Salt, freshly ground pepper, some curry powder
Instructions
Sweat the rice in hot olive oil until translucent. Dice the onion, chop the garlic and add both to the rice, briefly sweat until translucent. Cut chicken breast fillet into cubes or strips and briefly fry with the onion, garlic and rice. Then pour in half the stock, cover the pan and cook for 10 minutes over a medium heat, stirring occasionally.
Then mix in the remaining stock, prunes, broccoli florets and cream, replace the lid and cook for a further 10 minutes, stirring occasionally. Add salt, pepper and curry powder to taste.
Recipe Categories
LP Bone Health, Mains,
Recipe Tags
["New Recipe"]
27, 11,
Other Recipes you might like...