Quick Mini Tarts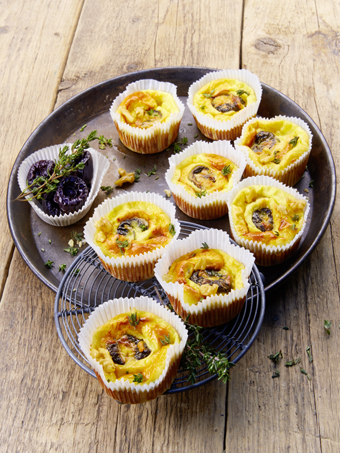 Ingredients
12 ground, salty crackers, with diameter of 4-5 cm
12 SUNSWEET prunes
3 eggs (large)
200 g double cream cheese
50 g grated cheese (e.g. Gouda, Cheddar, Emmental)
Salt and pepper
50 g walnut kernels, chopped

Also:
12 small paper baking cups
1 12-hole muffin baking tray
Instructions
Place paper baking cups in holes of muffin baking tray. Put a cracker in each baking cup as a base. Put a prune on each cracker.
Stir the eggs together with the cream cheese and grated cheese until smooth, season with salt and pepper. Spread the mixture evenly in each baking tray cup. Bake in a preheated oven (electric oven: 200°C/fan: 175°C) for 15-20 minutes and then sprinkle with the chopped walnut kernels.
Tip: If desired, decorate with sprigs of fresh thyme.
Recipe Categories
Breakfast, Canapes and Savoury Snacks, LP Bone Health,
Recipe Tags
["New Recipe","Vegetarian/Meatless","Under 500 calories"]
4, 12, 27,
Other Recipes you might like...