Asian fish curry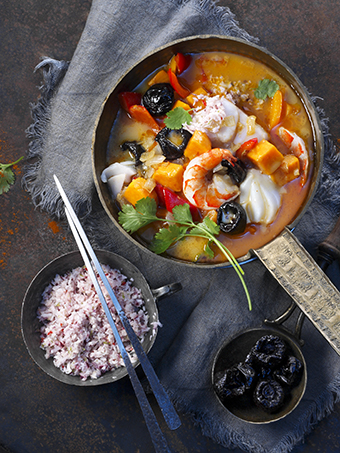 Ingredients
40 g coconut flakes
Zest of 1 lime and approx. 30 ml lime juice
½-1 green or red chilli pepper
50 g red onion
4 garlic cloves
3 tbsp water
Salt
400 g sweet potatoes
200 g each of red and orange peppers
100 g onions
100 g SUNSWEET prunes
1 tbsp coconut oil
2 tsp Thai curry powder
400 ml coconut milk
500 g cod fillet
150 g peeled and deveined Black Tiger prawns
1 bunch of coriander

Instructions
Make a coconut sambal by placing coconut flakes, water, grated lime zest and lime juice in a bowl. Wash the chilli pepper, remove seeds and chop finely. Peel the red onion and garlic. Chop the onion very finely. Chop the garlic finely and put aside half for later. Mix the rest of the garlic, chilli, onion and ¼ to ½ tsp salt with the coconut flakes. Leave aside for later.
Peel the sweet potatoes, wash and cut into roughly 2 cm cubes. Wash the peppers and cut into roughly 1.5 x 2 cm pieces. Peel and dice the onion. Cut the prunes into halves.
Heat the coconut oil in the wok. Fry the onion and reserved garlic in the oil for four minutes over a medium heat until translucent. Stir in the Thai curry powder and continue frying for another minute. Add the coconut milk and bring to the boil. Add sweet potato, peppers, prunes and 1 tsp salt, bring to the boil again, cover and allow to simmer for ten minutes on a low heat.
Rinse the cod in cold water, pat dry and cut into approx. 2 x 3 cm pieces. Rinse the prawns in cold water, pat dry, add to the curry sauce and simmer for about 1 minute. Fold in the cod, cover the pan and cook for approx. 5 minutes. In the meantime, wash the coriander, shake it dry, remove the leaves and roughly chop.
Sprinkle the prawn and fish curry with coriander and serve with the coconut sambal.
Recipe Categories
Canapes and Savoury Snacks, LP Bone Health, Mains,
Recipe Tags
12, 27, 11,
Other Recipes you might like...