Asian Soup with Prunes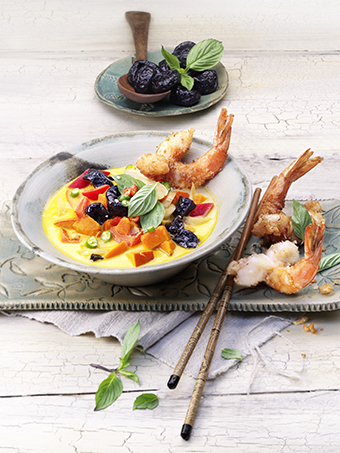 Ingredients
500 g red kuri squash (Hokkaido) or butternut squash
2 red bell peppers
2 onions
2 garlic cloves
2 green and 2 red chilli peppers
200 g SUNSWEET prunes
16 medium-sized shell-on prawn tails
2 tbsp. oil
1 tbsp. green curry paste (Asian specialty shop or supermarket)
400 ml fish stock
5 tbsp. Thai fish sauce (available in the supermarket)
400 ml coconut milk
50 g grated coconut
2 tbsp. starch
Oil for frying
Juice of 1 lime
½ bunch Thai basil
Salt

Instructions
Dice squash and bell peppers. Peel onions and garlic and cut into larger pieces. Finely dice green chilli peppers and cut red chilli peppers into slices. Dice prunes. Wash prawn tails and remove shell up to the tail fin. Cut raw meat in half to the tail fin.
Heat oil in a pot. Add squash, bell peppers, onions, garlic, chilli peppers and curry paste and sauté for 5 minutes. Deglaze with stock, fish sauce and coconut milk. Boil soup for 15 minutes until squash softens. Add prunes and keep warm.
Mix grated coconut and starch. Turn the prawns in this mix. Heat oil in a pot (or in a fryer) to approximately 180 °C and fry pawns in batches until golden-brown.
Season soup with lime juice and salt and pour into a bowl. Serve with green chilli peppers, chopped basil and prawns.
Recipe Categories
LP Bone Health, Soup, Starters and Appetizers,
Recipe Tags
27, 20, 5,
Other Recipes you might like...