Vernal Pea Soup with Cream Cheese Dumplings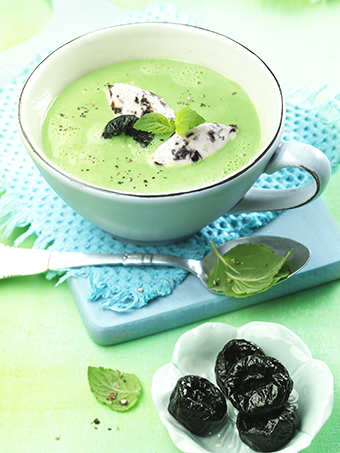 Ingredients
1 onion
1 tsp. olive oil
400 g frozen peas
300 g vegetable stock
200 ml kefir
80 g SUNSWEET prunes
100 g cream cheese
4 sprigs of mint
Salt & pepper (coarse)
Instructions
Finely dice onion. Heat oil in a pan and sauté onions until translucent. Add peas and sauté for 1 minute. Deglaze with vegetable stock, bring to a boil and simmer for about 10 minutes over medium heat.
Remove pan from heat and finely blend with a hand blender. Pour the soup into a metal bowl, place it in cold water and allow soup to cool.
Stir kefir into the cold soup. Season with salt and pepper. Finely chop prunes and mint and mix with cream cheese. Form small dumplings using 2 wet teaspoons and serve with the soup. Garnish with mint and pepper.
Tip: serve with toasted baguette.
Recipe Categories
Easter, LP Bone Health, Soup, Starters and Appetizers,
Recipe Tags
["Under 500 calories"]
21, 27, 20, 5,
Other Recipes you might like...