Heavenly Prune Yogurt Tiramisu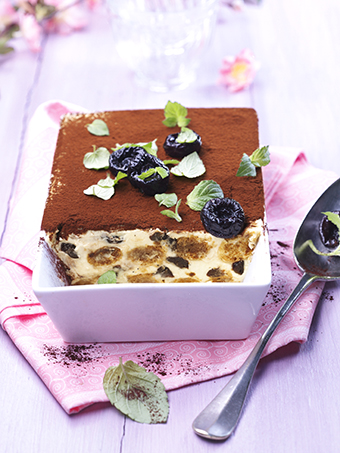 Ingredients
1 vanilla pod
150 g SUNSWEET prunes
250 g low fat yoghurt
200 g cream cheese
7 tbsp. agave syrup
100 ml espresso, brewed
6 tbsp. rum (optional)
200 g sponge fingers (finger shaped sponge biscuits)
Unsweetened cocoa powder for sprinkling
Chocolate shavings and mint for garnishing
Other: springform pan, approx. 35 x 23.5 cm

Instructions
Cut vanilla pod in half and scrape out seeds. Cut prunes into chunks and mix with yoghurt, cream cheese, agave syrup, vanilla seeds and 5 tablespoons espresso until smooth. Combine the remaining espresso with rum.
Place half of the sponge fingers into the springform pan and generously soak with the espresso-rum mixture. Then spread half of the yoghurt cream on top, place remaining biscuits onto the cream, and sprinkle with remaining espresso. Spread remaining cream on biscuits and smooth. Refrigerate tiramisu for at least 4 hours to soak through.
Then generously sprinkle cocoa powder on top of the tiramisu and serve garnished with chocolate shavings and mint.
Recipe Categories
Desserts and Sweet Treats, Easter, LP Bone Health,
Recipe Tags
["Under 500 calories"]
9, 21, 27,
Other Recipes you might like...